Please consider subscribing to my Patreon.
November 2, 2011 was one of the longest days of my life, the events of which shifted the course of my life irrevocably, and helped to shape the person I am today.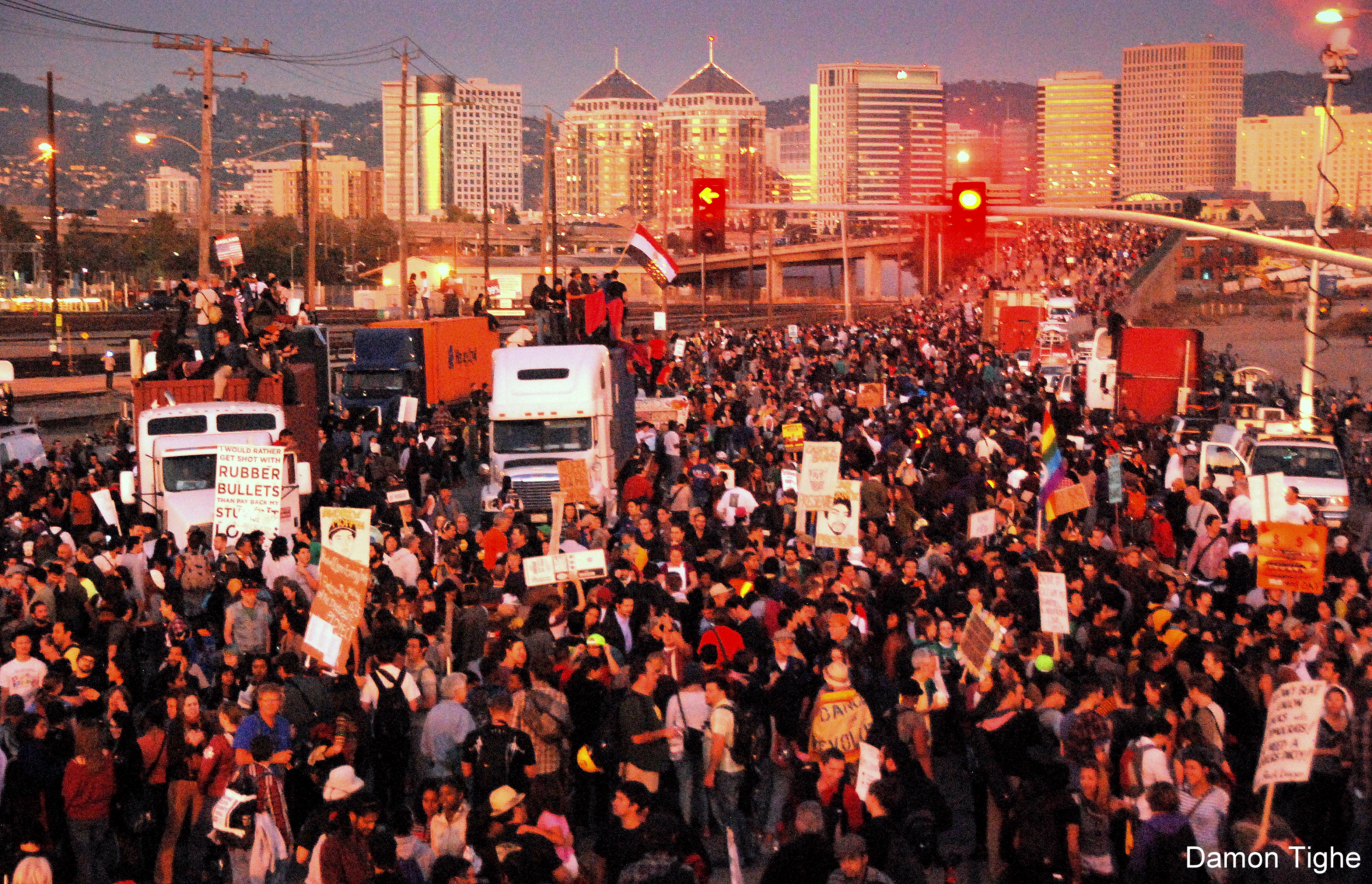 In the morning, crowds of people gathered in Downtown Oakland, to take part in the General Strike called in response to state repression against the Occupy Oakland encampment a week earlier. The October 25th raid on the camp had seen heavy use of tear gas, flashbang grenades, and rubber bullets, resulting in the traumatization of hundreds, if not thousands of people, and nearly resulting in the death of one young man, who had been hit in the head with a tear gas canister.
At several intervals throughout the day, thousands of people participating in the Strike marched to the Port of Oakland in an wildly successful effort to shut it down. Bodies crowded the Port's many berths, ensuring that no business would be done that day, and truck drivers sat motionless on the streets as protesters climbed onto the cargo containers loaded onto their rigs, and scaled sign posts waving flags.
Around twilight, the majority of us began the long march back towards downtown, while others continued to blockade the port in a successful effort to ensure that the evening shift would not go to work.
After dark, I stood by the first aid tent in the Plaza in front of Oakland City Hall, part of a small knot of medics who had not yet gone home for the night. We were all exhausted after having been in the streets since that morning, and were discussing whether or not it was necessary for any of us to stick around. A black-clad person approached our group, handed us a slip of paper which read:
"520 16th Street
The Oakland branch of the Traveler's Aid Society was a government-funded non-profit that provided aid to houseless people in our area. After the government cut funding to the program the Oakland branch faced foreclosure at the hands of their private lender.
Since then, the space sat vacant, as though it were disposable to those with the keys. To us this space is invaluable. We are reclaiming it for the people. It is now open for our use.
We welcome the Traveller's Aid Society to resume providing services in this building. Otherwise, we will make it into a library and open workshop space for the people of Oakland.
This space is an example for the country. When the political and financial systems of this nation fail to provide needed services, we must do it ourselves.
We are the 99%. This is our future."
When we looked up from the scrap of paper, the person who had handed it to us had disappeared into the crowd, presumably to continue passing out slips of paper and spread the word. Another medic and I agreed to check out what was going on, but decided to take a circuitous route around the block to see if we could spot police amassing anywhere. Our walk around the block didn't turn up anything, but as we approached the Travelers' Aid Society, we saw barricades being constructed from dumpsters and overturned trash cans. People moved around inside the brick building, and an "OCCUPY EVERYTHING" banner stretched across its upstairs windows.
Road flares blazed in the street in front of the building, and people nervously milled about in front. Helicopters flew low overhead, and many people were already masked and making preparations for the inevitable onslaught of  riot gear-clad police officers heavily armed with their "less-lethal" tools of repression. Music was playing, and several people danced in the streets, despite the palpable tension in the air. A tall person wearing a black hoodie, black jeans, black boots, black bandana, ski goggles, and black messenger bag slung over one shoulder took note of the red crosses on my arms and back, and leaned in to tell me they were carrying a first aid kit, and to find them if I needed help. The helicopters seemed to grow louder, and down the block, people were beginning to set their haphazard barricades on fire, claiming that the smoke would help carry away the tear gas which we all knew was inevitable.
As the barricades ignited, the medic next to me asked, "Are you sure you want to stay?" I didn't at all want to stay. I was certain I knew what was about to happen, and I was terrified. I told them I was sure I wanted to stay, anyway. Shortly afterwards, lines of riot police materialized in the darkness beyond the smoke, and began to march towards us.
As the lines of paramilitary-clad police officers stomped towards us, someone delivered a dispersal notice, only a few words of which were actually intelligible over the murmur of the crowd surrounding me. I heard a crackling, robotic declaration of "unlawful assembly," and could make out threats of chemical agents being deployed against us if we refused to leave. A few people lost their nerve and slipped away, but the bulk of the crowd remained. The police lines tromped closer, coming to a halt across Broadway and Telegraph, just past 16th Street.
The next few minutes passed in a blur of terror and adrenaline. I know the police probably issued their dispersal order again, now that they were close enough for us to hear it. I'm sure I did hear it. Nobody moved to leave, and I stayed along with them. The gas masks the officers were wearing came sharply into my focus, and delayed instincts made me pull on my own, seconds before the air around me grew thick with tear gas, and people began to run.
The intial barrage of tear gas dissipated as I moved through the crowd, spraying Maalox and water into the eyes and mouths of the people around me, hoping it would actually do some good. The riot lines moved up again, and the people around me began to run. I ran with them as another volley of tear gas began, and with every step I took, another canister landed directly in front of me. It took four strides before I realized they were aiming for me, and eight strides before the second barrage stopped. I don't know how much time passed between that second storm of tear gas and flashbang grenades, and I don't know how I managed to avoid being hit by any of the rubber bullets flying through the air. I operated in a haze, tending to the people around me, making sure no one was left behind. I do remember how glad I was to see other medics who had gone home earlier in the evening back at the intersection of Broadway and 14th. I remember panicking and screaming at some point. I remember walking home, accompanied by a friend who wanted to make sure I got there safely, and I remember showering for a long time, not caring that the steam was reactivating the tear gas dust that had settled into my hair, causing it to burn my eyes, nose, and throat. I remember sobbing in the shower and scrubbing at my skin, feeling like I would never be cleansed, and I remember spending the next week of my life operating on auto-pilot, until I actually learned how to manage the flashbacks which would crop up unbidden and completely unpredictably.
I didn't know it until years later, but November 2, 2011 was the night I became an anarchist, and despite all the trauma incurred that night and in all the nights afterwards, I'm fairly certain that my first experience being teargassed in the streets of the city I call home was the defining moment which led to my discovering the person I was always meant to be.